As a service provider, your subscribers face ever increasing security threats. The lifestyle of your customers are more connected to the internet world than ever before. This trend has exposed many security holes for cyber criminals to access your customer's home network, hijack their devices and steal their valuable data via the internet.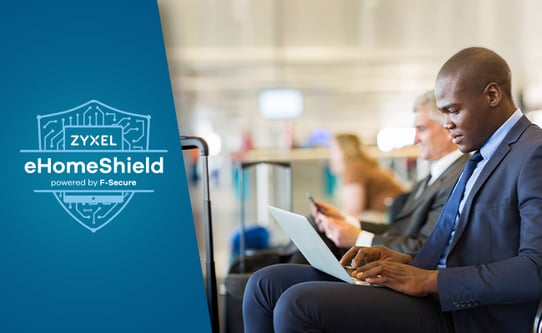 Jake Sailana, Director, Product Marketing at Zyxel Communications said, "In addition to high-speed WiFi, families are asking for internet security solutions for their smart homes, and protection for their kids while online."
Jake added, "With eHomeShield, Zyxel has partnered with security expert F-Secure to create a complete suite of turnkey, security and parental control solutions that service providers can quickly deploy as revenue generating, premium services.
There are other solutions .... some offer parental control, some offer end-point security and some offer gateway security...but eHomeShield does all in three neat bundles. And of course, it has an easy-to-use mobile App."
Family Control
When a young person goes to a friend's house, their parent or guardian will naturally want to know they are in a safe environment.
The broadband router or gateway is the front entry door to your subscribers' eHome. It protects privacy on all the devices, including smart TVs, gaming consoles, and baby monitors. By grouping all the devices into profiles like "Daughter Susan device" or "Living Room," your subscriber can set a type of firewall that restricts access during different parts of the day and can limit what kind of content each profile can access. The Bedtime feature can also cut off internet access at a specific time with different rules set for weekdays and weekends.
A centrally-managed parental control feature called "Family Rule" can also limit what kind of content each profile can access and can be managed from a connected home security mobile app. With this family control feature, children have the freedom to explore the Internet with a worry-free parent.
Zyxel teams up with F-Secure

Zyxel products featuring eHomeShield powered by F-Secure provide robust protection from hackers that can easily access the home network through smart internet-connected devices such as smart TVs, gaming consoles or smart lamps and even baby monitors that have poor online security provisions. Zyxel solution bundle will also include F-Secure's SAFE, an award-winning security suite. This software offers the devices that extensive security and privacy protection while outside the house on public networks at cafes, airports, etc.
Blocking Cyber Threats

By design, eHomeShield offers protection of all home devices that traditional security software is not able to handle. From the "Threats View", the subscriber can see all harmful activity eHomeShield detected in the home network. This can be things like harmful websites blocked on the phone or computer, or someone trying to exploit an insecure smart appliance. The user can also tap a threat to see more details about it. The "Events" screen is an overview of activity of one's network. Examples of what can be found in Events include seeing if someone is trying to access content the subscriber has chosen to block, and how many intrusive attempts by advertisers to track the user have been blocked.
For more information about this product, Zyxel will host a free webinar about the new eHomeShield Cyber Security Solution on Thursday, December 5, 2019, at 11 a.m. Pacific Time. Register Now!