In 2019, according to Research and Markets the fixed LTE market was valued at USD 22.29 billion in 2019 and is expected to reach USD 81.36 billion by 2025, at a CAGR of 24.5% over the forecast period (2020-2025). The service providers are making a significant investment into fixed LTE technology for residential users, which is expected to have a positive impact on the market growth, over the forecast period.

Your subscribers need a high-quality and reliable internet connection. LTE technology offers high-speed capacity that not only brings efficiency to wireless broadband, but also supports an array of network applications, such as high-definition video streaming, high-quality online gaming, IP surveillance, live event broadcasts and much more. Also, Zyxel's CPE supports: Bridge Mode and Router Mode.

What are the advantages of using outdoor LTE CPE (Customer Premise Equipment)?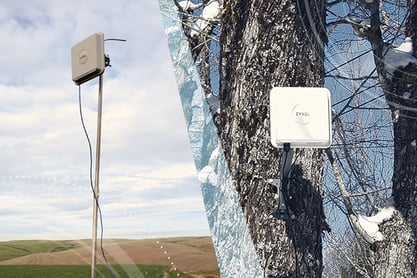 Better Connection and Best Performance
Zyxel CPE 7461 and 7480 have directional antennas. Outdoor CPE can be installed and positioned for a better connection to the LTE base station. This will improve the speed and performance of your broadband connection. LTE7480 utilizes the Citizens Broadband Radio Service (CBRS) band to offer high-speed broadband using LTE technology. It enables network operators to cost-effectively provide high-speed connectivity to customers over last mile access.
Weather Protection Enclosure
The IP68 certified hardened enclosure protects device from harsh weather conditions. It's pretty much impervious to the harsh elements.
Built in PoE Power Source
Power over Ethernet (PoE) offers flexibility and easy deployment without needing a power outlet at the point of deployment.
Bridge Mode for easy Connection to Home Router
It opens a lot of options for the Service Providers.

Learn more about Outdoor Fixed Wireless CPE on the video below.