As the year 2019 winds down, Zyxel has much to be proud of. Here are some highlights of Zyxel's many accomplishments.
CES Innovation Awards
First up, we couldn't be more proud to end the year with a bang and that is receiving not just one but two CES 2020 Innovation Awards for WiFi6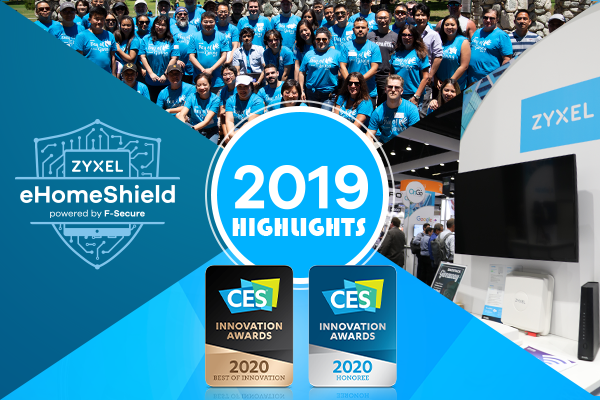 and 5G LTE Solutions. The Halo Light 10G Fiber WiFi6 Intelligent Home Wi-Fi System was named a Best of Innovation award winner in the CES® Innovation Awards Program, taking the top honors in the Computer Peripherals & Accessories category. A second WiFi solution, Halo Air 5G WiFi6 Intelligent Whole-Home Wi-Fi System, was named an honoree in the Smart Home category. The CES Innovation Awards Program is an annual competition honoring outstanding design and engineering in consumer technology products across 28 product categories.
To Lead, Heading all, With our eHomeShield Product
Zyxel's core products and partnerships are our lifeblood. We don't stop to innovate and partner with the best in the industry. Zyxel is expanding product category with a suite of Cyber-security services for service providers. Zyxel's eHomeShield secures every single device connected to your home network against cyber-attacks. This year we teamed up with F-Secure to integrate the company's award-winning cyber security software into Zyxel's residential gateways and devices.
Showcasing 5G LTE Solution for Fixed Broadband AT MWC19 Los Angeles
Zyxel showcased its portfolio of fixed wireless broadband, whole-home managed WiFi and in-building wireless solutions for service providers at the fastest growing trade show for all sectors of mobile technology in North America - MWC19 in Los Angeles. LTE 7480 features lightning-fast internet connectivity and high-gain antennas. LTE7461 is designed for deployment in harsh outdoor environments. In addition, LTE7461 is easily managed using TR-069 and remote GUI.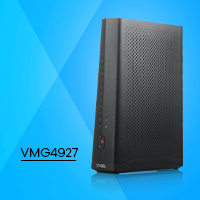 VDSL2 Pair-Bonding Solutions for ISPs
Zyxel launched VMG4005 VDSL2 pair-bonding modem and the VMG4927 Dual-Band Wireless AC/N VDSL2 Bonding Gateway. The Zyxel VMG4005 provides a high-speed, bonded VDSL2 option to service providers who want to deploy the same WiFi gateway for both copper and fiber broadband deployments. The Zyxel VMG4927 is one of the company's highest-performing WiFi/VDSL2 gateways, providing ultra-high speed, bonded VDSL2 options and carrier-class WiFi.
LTE Multi-Band and CBRS Outdoor Routers for Fixed Wireless Broadband
Zyxel started shipping the LTE7480 LTE-A Pro Outdoor Router, enabling network operators to cost-effectively provide high-speed Fixed Wireless Access (FWA) to customers in remote areas where other technologies would be cost-prohibitive.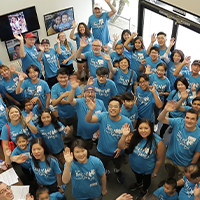 Zyxel's Day of Giving
Team members from Zyxel shut down their computers, set aside their phones, and left their air-conditioned offices to participate in a community service project during the company's seventh annual "Day of Giving" on July 18. The volunteers from Zyxel worked alongside staff members to assemble food packages to support Giving Children Hope's We've Got Your Back Program (WGYB).
So those are Zyxel highlights of 2019. To our partners, customers and team members, thank you again for a great 2019. We are looking forward to continued success in 2020 and the many opportunities in store.