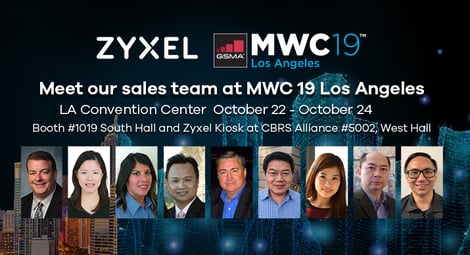 If you are a service provider or a network/broadband decision maker attending the fastest growing trade show for all sectors of mobile technology in North America- MWC19 in Los Angeles on Oct 22-24, stop by the Zyxel booths (Booth #1019, South Hall and Zyxel Kiosk at CBRS Alliance #5002, West Hall). With nearly 22,000 industry influencers and business professionals, we are excited to gain international attention, meet and educate new customers and showcase our cutting-edge products. Jenniffer Mackey Sales Director at Zyxel mentions why we exhibit at MWC19 in Los Angeles.
"It's our passion to partner with Mobile World Congress and the industry that we share in order to provide broadband services to the communities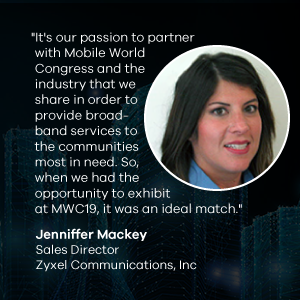 most in need. So, when we had the opportunity to exhibit at MWC19, it was an ideal match."
The three-day event will showcase our innovative products solutions including Fixed Wireless Broadband, Whole-Home managed WiFi System and Distributed Antenna Systems. These products will allow Service Providers to extend coverage to areas that do not have wired access, leading to revenue-rich services. You can also check out 5G Fixed Wireless Access that includes 5G New Radio (NR) and Long Term Evolution (LTE) as part of our comprehensive portfolio of mobile broadband solutions.
A team of product experts will be in our booth to answer your most anticipated questions. To have a stronger grasp of our products, you may also schedule a one-on-one meeting in our MWC Booth #1019 or OnGo Pavillion #5002 by sending email to key_sales@zyxel.com.
Immerse yourself into Zyxel's world of cutting edge fixed wireless broadband, whole-home managed WiFi and in-building wireless solutions.