We are very pleased to all attendees who visited our two booths at the world's largest exhibition for the mobile technology, MWC19 in the City of Angels. Los Angeles Mayor Eric Garcetti, Kathryn S. Schloessman, president of the Los Angeles Sports & Entertainment Commission (LASEC) and Ajot Pai FCC chairman were among the keynote speakers for the three-day MWC19 Los Angeles Conference Program.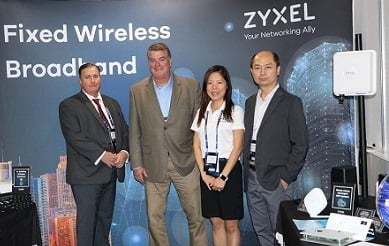 We enjoyed many inspiring conversations. Attendees expressed enthusiasm about Zyxel's latest technology solutions - Fixed Wireless Broadband, Whole-Home Managed WiFi System and Distributed Antenna Systems. Steve Oberle, VP of Sales at Zyxel mentions about the conference program, "MWC connects the world's Mobile Technology leaders to the most innovative customers worldwide. This year's show is super busy and all about the future of 5G."
With nearly 22,000 industry influencers and business professionals at MWC, the atmosphere was simply exciting and positive, and the attendees were thrilled. "MWC is full of energy and excitement for the future of communications and innovation. We are very happy to participate and spend time with such forward-thinking customers," says Don Hutton, LTE Business Development Director at Zyxel.
The exhibition was a great success and we had an amazing time. We were delighted to have so much interest and numerous inquiries about our latest technologies and products. We will see you next year for MWC20. In the meantime, check out our video from MWC19.