What is CBRS?
CBRS (Citizens Broadband Radio Service) is a band of the radio-frequency spectrum from 3.5GHz to 3.7GHz that the FCC has designated for sharing among three tiers of uses: incumbent users, priority licensees, and generally authorized, which is unlicensed. The incumbent users include satellite ground stations and the Navy. CBRS is an efficient way to deploy high quality wireless access. In addition, it offers a plethora of opportunities for Service Providers. The CBRS bands provide both licensed and unlicensed options via spectrum-sharing architecture and is paving the way for new and unique business models for both Service Providers and new market entrants.
CBRS offers a solution for these hard-to-reach areas. In the U.S. it is comprised of 150 MHz of shared spectrum. Manufacturing, warehousing, mining, hospitality, farming, utilities and many more are industries where CBRS plays an important role. According to GSACom.com (Global Mobile Suppliers Association), "There has been rapidly growing interest and momentum behind the CBRS-shared-spectrum approach in the USA and, now that public and private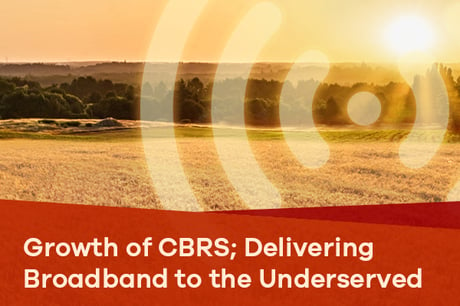 network operators will very soon be able to launch services using their priority spectrum, GSA has identified nearly 200 devices that they can make available". GSACOM.com also mentioned "The CBRS Alliance is working on the technical aspects of making CBRS work in the USA, including interoperability and coexistence specifications and has developed the OnGo brand to accompany its CBRS certification process." Just recently, telecompetitor.com mentioned, "Just 24 bidding days after it kicked off, the CBRS auction has closed, raising $4.585 billion".

CBRS is an innovative and efficient way to use spectrum. Zyxel offers a range of outdoor LTE CPE that operate on CBRS or licensed frequency bands. Zyxel's LTE-A outdoor router utilizes the CBRS band to offer high-speed broadband using LTE technology. Zyxel's LTE7485-S905 4G LTE-A Outdoor Router recently received OnGo certification by the CBRS Alliance ….. which has been tested and validated for full interoperability by the top three Spectrum Access System (SAS) server vendors. For service providers, OnGo certification brings interoperability to multi-vendor, large-scale deployments, thus enabling best-of-breed solutions at competitive costs. The certification is essential for CBRS CPE categorized as "CBSD" (Citizen Broadband Radio Service Devices).

While certain cities may be hard to reach due to geography and topography the need to access faster download speeds and greater capacity in these rural areas remain high. Ideal for use in suburban areas, public locations, homes and offices, this Outdoor Router is a CPE-CBSD device that delivers a maximum 36 dBm EIRP over the 3.5 GHz CBRS band and incorporates a built-in SAS client. LTE7485-S905 employs 3GPP UE downlink Category 16 to deliver data rates of up to 580 Mbps for lightning-fast internet connectivity over extended distances through Fixed Wireless Access (FWA).

To learn why would a Service Provider use CBRS and where would be the best use case for deploying a CBRS solution, click here.