What is MPro Mesh?
Zyxel MPRo Mesh™ Solution with EasyMesh support is a managed WiFi system that allows easy setup with automatic device on-boarding and configuration. Additionally, it is a future proof managed WiFi system combining hardware, software, and a mobile self-help app to meet your WiFi speed and coverage needs. Zyxel's WiFi 6 MPro Mesh system of residential gateways and extenders is accompanied by the MPro Mesh mobile app, an intuitive, subscriber facing self-help tool that is available at no extra cost to Zyxel customers. The mobile app provides subscribers' visibility into their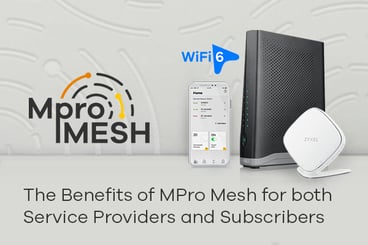 WiFi networks through a dashboard of features that enable them to check the health of the network, read and set passwords, pause internet access on devices and more. The app can significantly reduce support calls, resulting in cost-savings and improved customer satisfaction.

EX3510, WX3310 and EX5510
Zyxel's latest WiFi 6 products for service providers: EX3510, WX3310 and EX5510 deliver gigabit WiFi speeds enabling operators to provide ultra-high definition 4K/8K services and support hybrid high-throughput applications to support a true IoT lifestyle. Zyxel's easy-to-manage EX3510, WX3310 and EX5510 support the TR-069 standard, enabling service providers to manage the devices remotely without any user intervention and resulting in reduced deployment complexity.

Benefits for Service Providers
Generate recurring revenue with Managed WiFi Services
Upsell opportunities -Analytics on network performance and user behavior
Faster issue resolution and better customer satisfaction with TR-181
Reduce churn making customers happy
Lower maintenance expenses because of fewer truck rolls
Benefits for Subscribers
Wall-to-wall whole home coverage
A single WiFi covering both 2.4Ghz and 5Ghz bands
Band steering and Client roaming for seamless mobility around the house
Self-help mobile app to access passwords, enable guest WiFi and Internet pause features
MPro Mesh Powered by standards-based EasyMesh with multi-hop
Brian Feng, Senior Vice President, Key Account Business Unit, at Zyxel Communications explained, "The COVID-19 crisis is continuing to drive and expand work-from-home requirements among a growing number of organizations across the country. Our new family of WiFi 6 products provides service providers with a high-performance, reliable, remotely managed platform that delivers the performance subscribers need and the ease-of-deployment and management that increases customer satisfaction and reduces operational expenditures."

For more information about its features, benefits and products, click here.
To learn more about "Guide to Easy Mesh", see the webinar below.